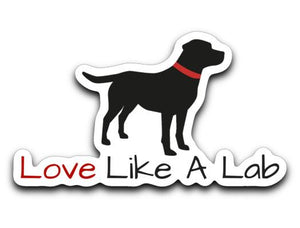 Labrador Retriever Sticker Decals -Love Like A Lab from Lab HQ
Labrador Retriever Sticker Decals - Love Like a Lab from Lab HQ
Your car is a bit bare. Your fridge could use a bit of sprucing up. Maybe your laptop needs some personalization. No matter why you want a decal, we've got the one you've been missing. Our Labrador Retriever Sticker Decals - Love Like a Lab from Lab HQ is the right mix of whimsy and tasteful.
Does any other dog treat their human with as much giddy love as a lab? We think not. Show everyone that you feel like we do with your new decal. Features include:
- FREE SHIPPING!
-Use Outdoors
- Use Indoors
- Made of vinyl and perfect for surfaces such as a car window, or use indoors to decorate your phone, tablet, or laptop.
- 3 1/2" x 2 1/2", so it fits great on most I phones!
 The way you use your decal is only limited by your imagination. Our decals stick on any non-porous surface and even some that may not be altogether sticker friendly. Order your Love Like a Lab decal today and add a stick some lab around your house!