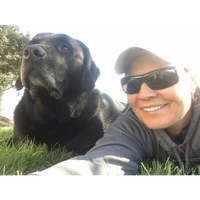 The Inspiration
So, we haven't figured out how to take a selfie of the three of us yet!
One dog always moves by the time I snap the photo! But Cali (seen here) and Piper are the inspiration behind Lab HQ and two of my life's greatest blessings. Lab HQ is about celebrating our love for our Labradors! Our most amazing friends love us unconditionally, are always excited to see us, and know the perfect ways to remind us to lighten up... to Live LAB Love!
It's no secret why Labs are voted the #1 breed year after year, because LIFE is ALWAYS better with A LAB! Shop here to support Lab Rescues and to celebrate the love of Labs.